Kalabi - Horizontal Music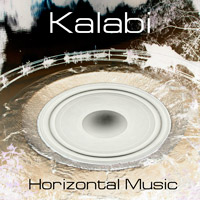 release code: mareld137
release date: 2018-10-05
In this, the third incarnation of Kalabi's 'Sideways Music' record, the artist takes the songs into ambient territory. Without the beat of the drums, the songs take a different shape, teleoporting us into a place of calm and meditation. Enjoy!
1. Sweet Paw's Theme (Real Train Mix) (03:50)
2. Sideways Music (Horizontal Mix) (03:50)
3. The Shambles (Ramble Mix) (04:26)
4. Ataxophobia (Who's Going to Tidy this Up Mix) (03:35)
5. UrbEx Lament (Oil Light Exploration Mix) (04:53)
6. Dreamy Sleepy Nighty Snoozy Snooze (Dreamy Mix) (04:13)
7. Black Canary (White Coal Mix) (03:04)
8. Sweet Paw's Theme (Really Real Train Mix) (04:02)
Purchase now
Feedback
Enno Karr- This work is like a well curated ensemble of tunes fit for a wide range of applications. Highly recommended for music lovers.