DJ Aristocrat & HOAK - Smooth Girl (feat. Gosha)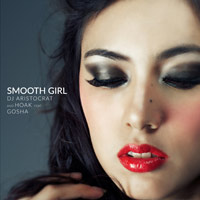 release code: clubpink82
release date: 2016-08-26
Following brilliant work with the likes of David Tort, Planet Funk and Dimitry & Like Mike and a release on Axwell's Axtone Records: EDM vocalist Gosha has teamed up with DJ Aristocrat and HOAK for this groovy nu-disco infused deep house number! Enjoy!
1. Smooth Girl (feat. Gosha) [Radio Mix] (04:00)
2. Smooth Girl (feat. Gosha) [Original Mix] (04:33)
3. Smooth Girl (feat. Gosha) [Extended Mix] (05:53)
Purchase now
Feedback
Monsta- Red hot, Bravo!! Thank you so much for sending me this promo. Would love to get some record label gear to show further support. I will give it a proper listing to. Going beyond my mix show, I am currently booking for club events like the up coming ADE! Also Looking to mix compilation mixes for labels for iTunes and beatport! Please keep in touch. Cheers! Monsta.