Animals In Cage - Acclimatize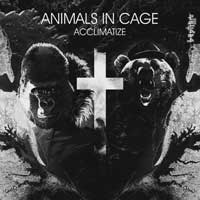 release code: BAP028
release date: 2016-07-08
With the track 'Acclimatize', these fierce creatures deliver their most powerful track to date. The punchy, dark and pumping original has been paired with a cool, raging remix by Yin Yang's Digital Session & Vincent Hiest. A second original - 'Destrukted Ethics' - offers a driving, energetic techno piece, equally dark as the others. Dance in the name of Techno, Amen.
1. Acclimatize (Original Mix) (07:14)
2. Destrukted Ethics (Original Mix) (06:19)
3. Acclimatize (Digital Session & Vincent Hiest Remix) (07:06)
Purchase now
Feedback
Monsta- Good stuff! Super hot tune! Thank you so much for sending me this promo. I will give it a proper listing to. Going beyond my mix show, I am currently booking for club events like the up coming ADE! Also Looking to mix compilation mixes for labels for iTunes and beatport! Please keep in touch. Cheers! Monsta.